The days that you need to exercise strenuously every single day and deprived your body of food just to achieve your dream body shape and weight have long gone!  Today, with the help of safe, reliable and proven effective products, namely SSSOLUTION 2 and SASHERRA Body Shaper from ZHULIAN, you can manage your body weight as well as obtain your hourglass figure in just a few months!
Have you S.H.I.F.TTM today?
SSSOLUTION 2 offers the easier solution for you to get a slimmer and healthier body. It helps to rebalance your metabolism. You have probably heard people blaming their weight on a slow metabolism, as metabolism is the complex biochemical process by which your body converts food into energy. The amount of calories your body uses to carry out the process is known as your basal metabolic rate. This rate is the reason why some people seem to be able to lose weight more quickly and more easily than others.
SSSOLUTION 2 focuses on rebalancing the body's health metabolism through its natural, advanced functional food formulation via its unique 5-stage S.H.I.F.T™ mechanism. If you stick to the easy-to-follow weight management programme, you will be able to experience visible results within weeks.
Get In Shape, On The Move!
SASHERRA Body Shaper has a unique cutting that helps to hold your body at all the right places and sculpt your body by smoothing bulges on your body parts. Its fabric is made of 40% Bamboo Charcoal, 40% Nylon and 20% Spandex, and impregnated with bio-ceramic particles. Besides being highly elastic to nicely drape your body figure, the fabric also emits Far Infrared Rays and Negative Ions that offers a host of health-enhancing benefits. Fabric treated with bio-ceramic has the unique ability to emit a subtle but noticeable amount of far infrared rays and negative ions. Far infrared rays are safe, especially since the body also naturally emits far infrared. Far infrared rays are able to penetrate deep into the body, hence elevating the body's temperature which will then increase the blood circulation. This energy also helps relieve joints, muscles, speed oxygen flow, activate many bodily healing mechanisms, promote detoxification, etc. Meanwhile, negative ion helps to regulate nervous system. It also helps with relaxation, and reduces stress on the body. These are the reasons why many agreed that they feel fresh and energetic when going about their daily activities while wearing SASHERRA Body Shaper!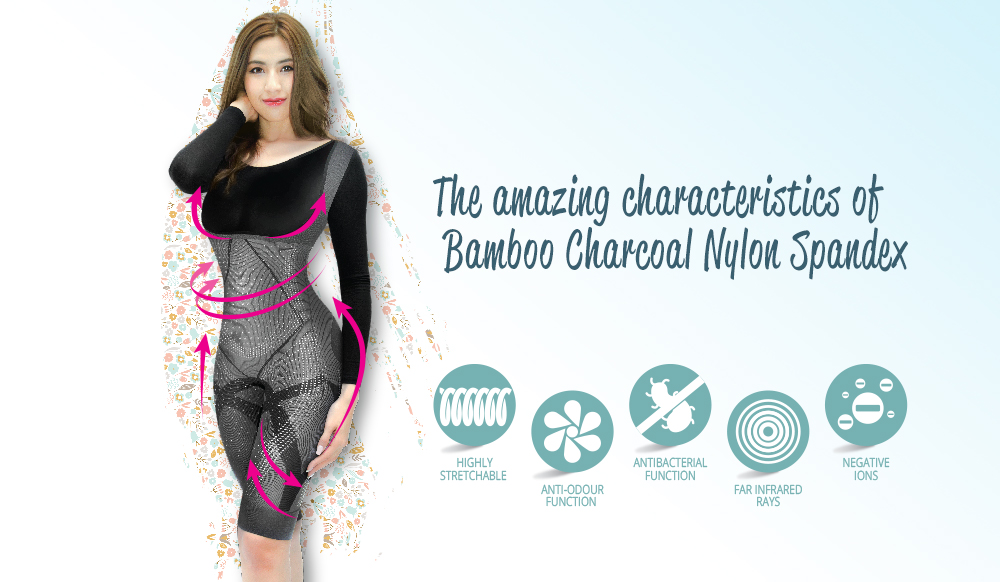 The Synergistic Effects of SSSOLUTION 2 and SASHERRA Body Shaper
We have witnessed many of our own Distributors and Leaders who were struggling with issues such as overweight and flabby body muscles, transformed into beautiful, confidence individuals by regularly consuming SSSOLUTION 2 and at the same time never tires of wearing SASHERRA Body Shaper every day.  The key is to not deprive yourselves to enjoy food, moderately.  Keep in mind that you still need to do exercise at least 2 to 3 times a week to see wonderful results – Getting into the body shape that you have always dreamed of!